They Call Him "Sweetness"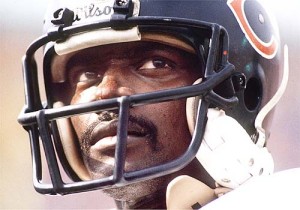 I was 7 years old when the '85 Bears captivates the nation and became the true America's team for a year.  No one could resist the charms of  this incredible cast of characters, from the Punky QB known as McMahon, The Fridge (The Rookie), Samurai Mike, and our man Dent.1  But no one was more bigger than life than the ultimate good guy, and arguably the greatest running back to ever play the game… Walter Payton.
Sweetness.
When deciding which Bears jersey to buy I had more options than seemingly possible.  Ditka's 89,  Butkus' 51, Urlacher's 54, Dent's 95, Singletary's 50… but there was no question which jersey I had to buy.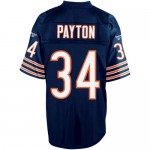 With the new book coming out about Payton comes new revelations.  He was depressed.  His marriage was falling apart. He used drugs to cope with it.  In an age in which we know far too much about our athletic heroes,2 Payton left this world long before that could happen.  We had no idea that 12 years later suddenly we'd start to have some new revelations.  But without a doubt, it doesn't matter.
Walter Payton is still Sweetness to me.  When he died I was in college and it was the first time I ever cried thinking about someone's death whom I had never met.  I still remember that day, sitting in my dorm room and learning about the loss of a childhood hero by way of SportsCenter.3  But I don't remember him as the sick man who died far too young.  And I don't remember him with the sad, dark side of his life that we now know about.  I remember him now, and always, as Sweetness.  One of the best to ever play the game.
_______________
Notes:
I assume you caught that each of those descriptions come directly from the greatest rap song ever written.
Twitter has created unprecedented access to athletes, and with it has come the sad reality that they aren't the amazing people we want them to be.  I follow them for the nuggets of interesting stuff, and spend the majority of the time often disappointed in who they are off the court or field.  In Payton's day this simply didn't exist, and so to me he'll always be the guy diving over the pile for the touchdown.